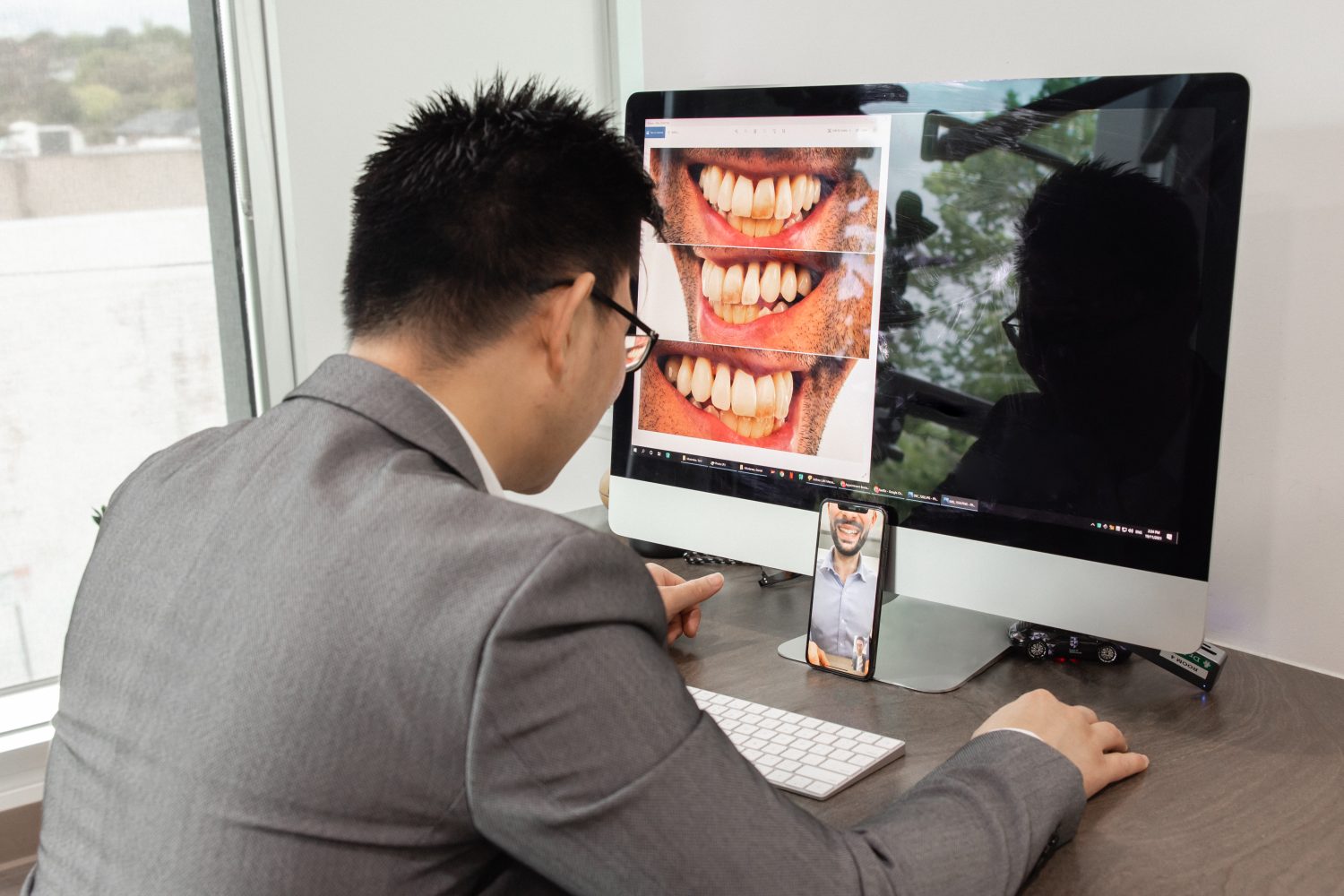 Composite bonding and porcelain veneers are two cosmetic dental treatments that can eliminate ??tooth stains, misalignments, chips, and other minor flaws that may make you insecure about your smile.
In this article, we'll unpack everything you need to know about dental bonding vs porcelain veneers. Once you understand both treatments, you can make an informed decision and ultimately choose the right option for you and your smile goals.
What Is Dental Bonding?
Dental bonding, also known as teeth bonding or composite bonding, is a type of cosmetic dentist treatment where a tooth-coloured resin is applied to restore or improve a tooth's shape and appearance.
This treatment is commonly used to conceal chips in the teeth, fix gap-toothed smiles, and remove stains and discolouration.
When it comes to composite dental bonding vs porcelain veneers, composite bonding is a more appropriate solution for those seeking a quick and affordable smile transformation.
You can receive dental bonding in one sitting and maintain the results for a few years.
Composite bonds aren't as durable as veneers, but they are certainly quicker to apply and more cost effective.
What Are Porcelain Veneers?
Porcelain veneers are thin pieces of porcelain that are permanently bonded over the front of a tooth to improve its appearance.
Whether you want to conceal stains, chipped enamel, gaps, or crooked and uneven teeth, veneers are a fantastic solution.
Many people opt for a set of 6-8 veneers or more across the upper teeth, however, you can get one veneer to fix a singular broken tooth.
It's important to note that veneers are a permanent restoration and a lifelong commitment.
That's why at Dental Boutique, we engage you in the entire veneers process, from design to application. Together with your cosmetic dentist, you will select the size, shape, and colour of each porcelain veneer for your smile makeover.
We are driven by your goals and value your input; we won't rest until you're 100% satisfied with the result.
The Pros and Cons of
Dental Bonding Vs Porcelain Veneers
Composite bonding and porcelain veneers are both effective treatments that can enhance your smile. The difference between composite bonding and porcelain veneers lies in their longevity, cost, and procedure.
Cost
Veneers are a durable, permanent smile solution, whereas composite dental bonding is more prone to breakage and more often requires replacement. While porcelain veneers typically cost more upfront, they tend to save you money in the long-run thanks to their durability.
If your main reason for seeking dental work is discoloration or stains and professional teeth whitening hasn't worked, veneers are often the best solution. However, if you're wanting to repair chips or gaps in your teeth, dental bonding may work better.
Appearance
Both porcelain veneers and dental bonding are designed to blend in with the colour of your surrounding teeth to look as natural as possible.
Veneers are stain-resistant, whereas dental bonding is more prone to darkening over time.
Composite bonding is preferable if you're improving the appearance of a chipped or broken tooth because you can mould it like clay to fit your tooth.
Longevity
Porcelain veneers are a permanent dental solution to aesthetic dental concerns. They are made to last up to 15 years or longer if cared for properly. While porcelain is not indestructible, it's more durable than composite resin.
Depending on what type of aesthetic concern you're addressing, composite bonding is still an effective treatment that's great for repairing chips or cracks in the teeth.
Smile Goals
Depending on your smile goals, a combination of dental bonding and veneers may be the best option.
If you're after a whiter, brighter smile, you may want to try professional teeth whitening first. If you're not happy with the results, porcelain veneers may be the next solution to consider.
If you're only dealing with minor chips, dental bonding may suffice.
Dental Bonding Vs Porcelain Veneers:
Which Treatment Is Right For You?
Ultimately, deciding between dental bonding vs porcelain veneers all depends on your dental concerns, aesthetic goals, budget, and personal preference.
We recommend booking a complimentary consultation with one of our cosmetic dentists to learn more about dental bonding vs porcelain veneers. Our dentists will help you determine which treatment is most suitable for you.
Your dream smile is only a click away.